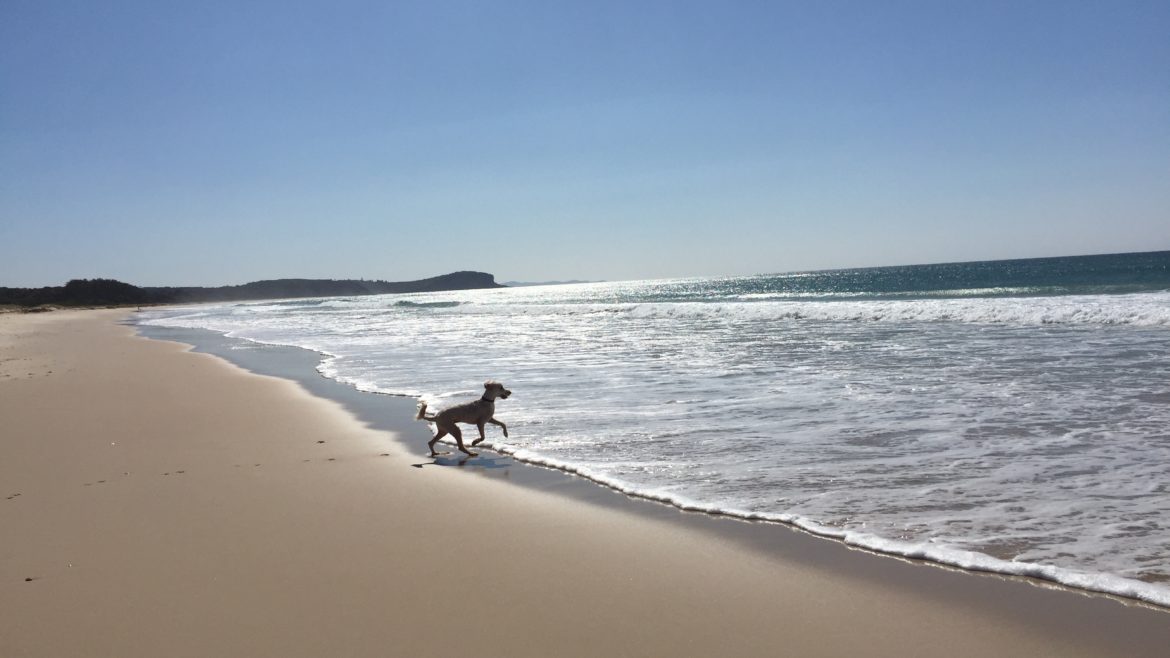 Cobe Cottage Black01 is situated in North Haven (Greater Port Macquarie), an idyllic swimming, surfing, kayaking, fishing, boating, bushwalking, cycling and paragliding destination.
It's about a 3.5-hour easy drive from Sydney and a 30-minute drive from Port Macquarie/airport.
At approximately 6 square kilometres North Haven hugs the Camden Haven River and the Pacific Ocean. The river and lakes are home to dolphins, a wide variety of fish and some of the largest wetland eco systems on the North Coast providing habitats for a wide range of native birds and other wildlife such as koalas and kangaroos. The Camden Haven River and Riverside walk is at the end of Black01's cul-de-sac.
Grants (North Haven) Beach is a kilometre from Black01. This beautiful pristine beach runs for about 3.5 kilometres. It's home to the Camden Haven Surf Lifesaving Club, who with council lifeguards patrol the beach during the school holidays and summer weekends. Dogs can run free on the beach north of the patrolled area. At the southern end of the beach there is the Beach Break Café, picnic tables, showers and other amenities.
A 5-minute drive away, Laurieton is well serviced by plenty of places to eat with fish and chips from the local Fishermen's Co Op to pubs and clubs. The latest movies can be seen at the Plaza Theatre (built in 1959) that inspired Baz Luhrmann to become a filmmaker.
To get you started below are some of the places the North Haven locals spend time. For an extensive range of activities in the North Haven and Port Macquarie areas check out the links at the bottom of this page.

North Haven Takeaway • On the corner of Leighton Close
Take away done well.
02 6559 8586 • 72-73 The Parade, North Haven
Sandbar Cafe Restaurant • 15-minute walk
Overlooking the pristine waters of Camden Haven in North Haven Sandar offers a friendly and relaxed atmosphere. Good breakfast, lunch and coffee.
(If you have a furry friend/s check prior as they have allocated one only dog friendly table outside.)
02 6559 6945 • 3/621 Ocean Drive, North Haven
Oasis by the River Restaurant & Bar • 15-minute walk
Overlooking the pristine waters of Camden Haven in North Haven, Oasis offers a casual and relaxed dining experience.
02 6559 6918 • 613 Ocean Drive, North Haven
Armstrong Oysters • 6-minute drive
Sydney Rock Oysters direct from the farm known for their creamy, buttery and salty flavour grown in the pristine waters of the Camden Haven River.
02 6559 5527  • 1 Short Street, Laurieton
Ricardoes Tomatoes & Strawberries • 26-minute drive
See how tomatoes and strawberries are being grown with state of the art computerised technology controlling two acres of greenhouses on an environmentally friendly farm. Pick your own strawberries.
www.ricardoes.com • Ricardoes Tomatoes and U-Pick Strawberry Farm,
221 Blackmans Point Road Port Macquarie
Whalebone Wharf Seafood Restaurant (established in 1971) • 30-minute drive
Port Macquarie's iconic waterfront seafood dining destination nestled over the banks of the Hastings River.
www.whalebonewharf.com.au • 269 Hastings River Drive, Port Macquarie
Koala Hospital • 31-minute drive
The Koala Hospital rescues, rehabilitates and releases koalas back into the wild.
www.koalahospital.org.au • Rota House Historic Site, Lord Street, Port Macquarie
The Stunned Mullet • 32-minute drive
As Port Macquarie's quintessential dining experience it holds a National Good Food Guide Chef's Hat, Trip Advisor's Traveller's Choice Award for the best restaurants within Australia consecutively from 2013- 2017 is featured regularly in Gourmet Traveller's Wine list of the Year.
www.thestunnedmullet.com.au • 24 William Street, Port Macquarie
For an extensive range of activities in the North Haven and Port Macquarie areas check out the links below
www.visitnsw.com/destinations/north-coast/port-macquarie-area/north-haven
www.visitcamdenhaven.com.au
www.portmacquarieinfo.com.au
Please note that some activities and services may have been updated to comply with government safety guidelines for COVID-19.